MARCH AUTHOR OF THE MONTH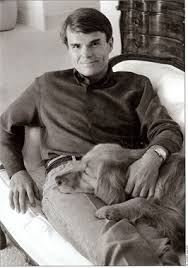 Dean Koontz
When he was a senior in college, Dean Koontz won an Atlantic Monthly fiction competition and has been writing ever since.
His books are published in 38 languages and he has sold over 500 million copies to date.
Fourteen of his novels have risen to number one on the New York Times hardcover bestseller list (One Door Away From Heaven, From the Corner of His Eye, Midnight, Cold Fire, The Bad Place, Hideaway, Dragon Tears, Intensity, Sole Survivor, The Husband, Odd Hours, Relentless, What the Night Knows, and 77 Shadow Street), making him one of only a dozen writers ever to have achieved that milestone. Sixteen of his books have risen to the number one position in paperback. His books have also been major bestsellers in countries as diverse as Japan and Sweden.
The New York Times has called his writing "psychologically complex, masterly and satisfying." The New Orleans Times-Picayune said Koontz is, "at times lyrical without ever being naive or romantic. [He creates] a grotesque world, much like that of Flannery O'Conner or Walker Percy … scary, worthwhile reading." Rolling Stone has hailed him as "America's most popular suspense novelist."
Dean Koontz was born and raised in Pennsylvania. He graduated from Shippensburg State College (now Shippensburg University), and his first job after graduation was with the Appalachian Poverty Program, where he was expected to counsel and tutor underprivileged children on a one-to-one basis. His first day on the job, he discovered that the previous occupier of his position had been beaten up by the very kids he had been trying to help and had landed in the hospital for several weeks. The following year was filled with challenge but also tension, and Koontz was more highly motivated than ever to build a career as a writer. He wrote nights and weekends, which he continued to do after leaving the poverty program and going to work as an English teacher in a suburban school district outside Harrisburg. After a year and a half in that position, his wife, Gerda, made him an offer he couldn't refuse: "I'll support you for five years," she said, "and if you can't make it as a writer in that time, you'll never make it."
By the end of those five years, Gerda had quit her job to run the business end of her husband's writing career.
Dean Koontz lives in Southern California with his wife, Gerda, their golden retriever, Elsa, and the enduring spirit of their goldens, Trixie and Anna.
—————————————————————————————————————-
Febuary Author of the Month
Nora Roberts / J.D. Robb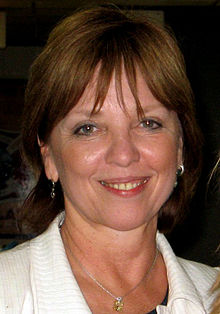 Nora Roberts (born Eleanor Marie Robertsonon, Oct. 10, 1950) is an American author of romance novels. She also writes as J.D. Robb for the In Death series and has also written under the pseudoyms Jill March and Sarah Hardesty.
Beginning
She began to write during a blizzard in February 1979 while housebound with her two small boys. Roberts states that with three feet of snow, a dwindling supply of chocolate, and no morning kindergarten, she had little else to do. While writing down her ideas for the first time, she fell in love with writing process, and quickly produced six manuscripts. She submitted her manuscripts to Harlequin, but was repeatedly rejected. Roberts says, "I got the standard rejection for the first couple of tries, then my favorite rejection of all time. I received my manuscript back with a nice little note which said that my work showed promise, and the story had been very entertaining and well done. But that they already had their American writer. That would have been Janet Dailey."
As Nora Roberts
In 1980, Roberts went to Silhouette Publishing, they published Roberts' first novel, Irish Thoroughbred. She used the pseudonym of Nora Roberts, a shortened form of her birth name, because she assumed that all romance authors had pen names.
Roberts still occasionally writes shorter category romances. Her attachment to the shorter category books stems from her years as a young mother of two boys without much time to read, as she remembers exactly what it felt like to want to read and not have time to read 200,000 words.
As J.D. Robb
After moving to Putnam in 1992, the publishing company quickly realized that they were unable to keep up with Roberts' writing output. They suggested that she adopt a second pseudonym.
J.D. Robb first title was published in 1995.  The initials "J.D." were taked from her sons, Jason and Dan, while "Robb" is a shortened form of Roberts.
As of March 2019, Roberts has published 48 novels plus 10 novellas in the In Death series.
Other Pseudonyms
Robert wrote a story for a magazine titled "Melodies of Love" under the pseudonym Jill March. She has also been known as Sarah Hardesty.
Charity
Roberts has been included repeatedly on the Giving Back Fund's annual lists of the most philanthropic celebrities, with the bulk of her donations going to the Nora Roberts Fountation. The Foundation financially supports organizations that promote literacy and the arts, assist children, and engage in humanitarian efforts.
Works
Many of Roberts' novels have been, or will be, reissued. To avoid confusion, all of Roberts' new releases include a logo that is a circle with the initials "NR" inside, indicating that the book has never been published before.
-----------------------------------------------------------------------
Authors chosen as Author of the Month receive a 20% discount during their month, in-store only.