Febuary Author of the Month
Nora Roberts / J.D. Robb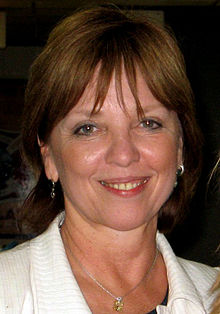 Nora Roberts (born Eleanor Marie Robertsonon, Oct. 10, 1950) is an American author of romance novels. She also writes as J.D. Robb for the In Death series and has also written under the pseudoyms Jill March and Sarah Hardesty.
Beginning
She began to write during a blizzard in February 1979 while housebound with her two small boys. Roberts states that with three feet of snow, a dwindling supply of chocolate, and no morning kindergarten, she had little else to do. While writing down her ideas for the first time, she fell in love with writing process, and quickly produced six manuscripts. She submitted her manuscripts to Harlequin, but was repeatedly rejected. Roberts says, "I got the standard rejection for the first couple of tries, then my favorite rejection of all time. I received my manuscript back with a nice little note which said that my work showed promise, and the story had been very entertaining and well done. But that they already had their American writer. That would have been Janet Dailey."
As Nora Roberts
In 1980, Roberts went to Silhouette Publishing, they published Roberts' first novel, Irish Thoroughbred. She used the pseudonym of Nora Roberts, a shortened form of her birth name, because she assumed that all romance authors had pen names.
Roberts still occasionally writes shorter category romances. Her attachment to the shorter category books stems from her years as a young mother of two boys without much time to read, as she remembers exactly what it felt like to want to read and not have time to read 200,000 words.
As J.D. Robb
After moving to Putnam in 1992, the publishing company quickly realized that they were unable to keep up with Roberts' writing output. They suggested that she adopt a second pseudonym.
J.D. Robb first title was published in 1995.  The initials "J.D." were taked from her sons, Jason and Dan, while "Robb" is a shortened form of Roberts.
As of March 2019, Roberts has published 48 novels plus 10 novellas in the In Death series.
Other Pseudonyms
Robert wrote a story for a magazine titled "Melodies of Love" under the pseudonym Jill March. She has also been known as Sarah Hardesty.
Charity
Roberts has been included repeatedly on the Giving Back Fund's annual lists of the most philanthropic celebrities, with the bulk of her donations going to the Nora Roberts Fountation. The Foundation financially supports organizations that promote literacy and the arts, assist children, and engage in humanitarian efforts.
Works
Many of Roberts' novels have been, or will be, reissued. To avoid confusion, all of Roberts' new releases include a logo that is a circle with the initials "NR" inside, indicating that the book has never been published before.
-----------------------------------------------------------------------
Authors chosen as Author of the Month receive a 20% discount during their month, in-store only.